CHRISTMAS 2002
<![if !supportEmptyParas]> <![endif]>
2002 going on 2003
Another Christmas is here and the Committee, the Coaches and all the Team managers would like to offer you the seasonís greetings and the best of New Years in 2003.
<![if !supportEmptyParas]> <![endif]>
Rankings
The quality of a club can be measured by the position of its individual members appearance in the rankings.† This year we have not one but two athletes at number 1 in the rankings.† Louise Watton is at number one in the under 17 womens rankings for the javelin and Matthew Calver is at number 1 in the under 13 boys triple jump.† Louiseís 46m94 actually puts her at third in the under 20 rankings and probably well up the list for Senior Women as well.† Matthew Calverís triple jump of 11m57 in the County Championships is the fourth all time best in the UK.† Matthew also featured in the rankings in the long jump and high jump.† Rachel Cork is in the top 20 in the under 17 shot and Dan Smith and Nick Fradgley feature in the under 15 boys high jump.† Dave Pearson has coached a whole clutch of athletes to success in the pole vault with Jocelyn Hird in the under 20 rankings, Laura Pangbourne and Sam Baldwin in the under 17s and Judith Kay in the under 15s.† If this tremendous show of quality could be matched by numbers at matches we would become a very considerable force in athletics in the south.
<![if !supportEmptyParas]> <![endif]>
<![if !vml]>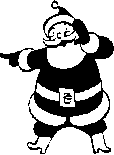 <![endif]>
Christmas Closure
The club will not operate on Saturday December 28th. Otherwise most sessions operate as normal but please contact your coach for details.
<![if !supportEmptyParas]> <![endif]>
Last Run of the Year
To celebrate the end of the year Glyn Davies will again host this event at 10.30 on December 29th.† We run (gently) from 17 Horseshoe Close, Colehill out on to Canon Hill Plantation and round it off with some hot punch and mince pies.† For further details ring Glyn on 880682.
<![if !supportEmptyParas]> <![endif]>
Circuit Session
The club is operating a circuit session at Canford School Sports Centre on Wednesday evenings at 8.15pm for an hour of hard but very enjoyable work.† These sessions will resume again on January 8th and will last until half term.† The sessions cost £2 and while there is some work specifically for jumpers and throwers these sessions are open to anyone seeking to build up their fitness levels.
Sportshall
The last league match is at Canford School on Saturday 21st December. Be there at 2.00pm for a 2.30 start.† Our under 15 boys are challenging for the title but for the rest of us this is a fun event.† The County Championships take place on Sunday January 19th again at Canford School.† Please tell Peter Impett 01202 880767 if you want to enter.† The County team will be selected on the basis of these championships.
<![if !supportEmptyParas]> <![endif]>
Cross Country
Ian Kennedy is bringing about a major improvement in club fortunes in cross-country.† He has worked very hard to get athletes to turn out but he still needs more to ensure that he can get a team out in every age group.† Why not give it a try.† The next league match is scheduled for 12th January and will be hosted by Wimborne AC, it takes place at Ferndown Upper School.† Letís see our best turnout yet - we also need about 12 people to help with marshalling and other tasks - can you or any family members help with this?† If so please contact Ian on 01202 577081. First race starts at 12.45 and the final race should be over by 2.30.† The County Championships take place at Canford on Saturday January 4th.† Entries must be received by December 30th.
<![if !supportEmptyParas]> <![endif]>
Ashdown
Visitors to the track will see that we now have a building at the track.† The electrics have still to be connected at the time of writing but it should soon offer us the opportunity to shelter from the rain and to do all those necessary bits of business when we have matches at the track.† The club has made a contribution to the costs of providing the building from funds and from an award that the club has been given by UK athletics.† The† building ( any ideas for a name for it) will help enormously at track meetings.
<![if !supportEmptyParas]> <![endif]>
On The Roads
| | |
| --- | --- |
| <![if !vml]><![endif]> | The road runners make no allowances for festivities and are set for at least two races over the holiday period.† The Round the Lakes races take place in Poole Park on Boxing Day starting at 11.00am.† Then on New Years Day there is the Broadstone Quarter Marathon departing Broadstone Sports Centre for a double loop to Darbys Corner and back.† The race starts at 11.00am.† Entry is available on the day and there is a separate prize for the under 17 age group. |
<![if !supportEmptyParas]> <![endif]>
<![if !supportEmptyParas]> <![endif]>
<![if !supportEmptyParas]> <![endif]>
Pole Vault
The results that Dave Pearsonís athletes are achieving are borne out by their positions in the rankings.† Dave has had two grants towards the purchase of poles and other equipment and the idea of the pole bank where athletes borrow poles that suit their capabilities is set to go national.† Dave is now conducting indoor sessions with portable runways and makes much of the training equipment himself.† If you would like to join one of Daveís training sessions give him a call on 01258 837057.† To secure the longer term future of this training group a sponsor needs to be found.† Do you know anyone who could help to sponsor one of the countryís top pole vault training groups!!
<![if !supportEmptyParas]> <![endif]>
Subscriptions
Donít forget your subscriptions for the New Year.† The club needs your money to enable it to move forward please return your membership forms to Richard Nunn.
<![if !supportEmptyParas]> <![endif]>
Working with Others
A relaxation of the rules will allow us to join with other clubs to compete.† We propose to join with Poole AC to compete in the Southern Mens and Southern Womens Leagues next summer.† This will give more strength in depth and may help to cut travelling costs.
<![if !supportEmptyParas]> <![endif]>
<![if !vml]> <![endif]>

Presentation Evening

The Presentation Evening has been provisionally booked for Friday January 24th at the Broadstone Hotel.† We will be using the skittle alley again following our very successful event there last year.† More details soon.
<![if !supportEmptyParas]> <![endif]>
Team Managers
Peter Impett has offered to take over the Southern Mens League team management for 2003. However we do need help with other team management particularly the South West League and the Young Athletes League.† The more people who help the easier it becomes.† If you are able to help please phone Peter on 01202 880767.
<![if !supportEmptyParas]> <![endif]>
<![if !supportEmptyParas]> <![endif]>