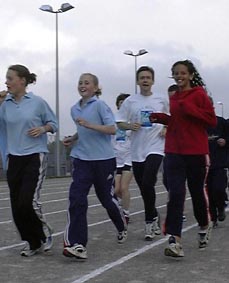 Younger members of the Road Runners
The Road Runners go from strength to strength and are the fastest growing section of the club and are now a major force in the Dorset Road League, winning the Boscombe 10K at the end of 1999. Most races are held locally so if you are free go along and support them or join in!
The Road Runners meet on:
Mondays at Ashdown Track at 18.30
Wednesdays at Durley Chime at 19.00 (shore road in summer)
Thursdays at Queen Elizabeth Leisure Centre at 18.00 (summertime 18.30)
It may be wise to to contact the Road Runners to confirm times before turning up.